MONTAGNE SAINT-EMILION, A WINE OF CHARACTER
EDITO 2018

Since 1964, the family vineyard of the Vieux Château des Rochers consists of 5 ha of vines that we follow with rigor and passion to harvest the best grapes and vinify an AOC Montagne Saint-Emilion wine of character.

After 2017' spring frost and a low harvest, this new year 2018 is the time to start off again. We must now prepare this future vintage with the prune of nearly 25 000 vines !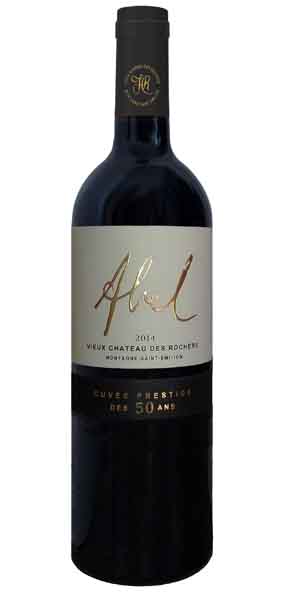 You will find all our vitages on the page OUR WINES.
The new 2014 vintage available is an opportunity to celebrate 50 years of the property. Unfortunately in 2014 my father left us at the age of 92 years. So we pay homage to him with the vintage Abel. These two events are accompanied by two gold medal.
Hoping to satisfy all of your taste buds.
Sincerely.
Jean-Claude Rocher, independent artisan-winemaker
Last selections in the press and competitions
2016 cuvées Tradition & Prestige (will be available in 2019 November) :
18/05/2017-Selected by Jacques Dupont, LE POINT n°2332
2016 Tradition : "Fruits red, tender mouth in attack, fairly fine tannins, tight in final, good material"
2016 Prestige : "Red fruits, tender mouth, elegant, fine tannins, delicate, good length, balanced, final raised."
2015 cuvée Prestige (will be available in 2018 November) :
2015 cuvée Tradition (will be available in 2018 November) :
30/01/2018-Selected by James Suckling, an american wine critic
"A juicy and fruity wine with some berry and chocolate character Medium body, firm and silky tannins and a fresh finish. Very good for the appellation." 88/100
05/09/2017-Selected by GUIDE HACHETTE DES VINS 2018




22/03/2017

-

Gold medal

at the 2017 Independant Winegrowers competition

in Paris

13/02/2017-Selected by

James Suckling

, an American wine critic


"A wine with light plum-cake and jam character. Medium to full body, soft and velvety tannins and a juicy finish. Pretty chocolate and nut undertones. Delicious. Drink now." 90/100



08/09/2016-Selected among blind tasting of 45 wines by the weekly LE POINT n°2296, Spécial Vins


"Aroma of coffe, peppery nose,round, supple, freshness and spicy palate,with wood present but toned."

[Translation]