INDEPENDENT WINEMAKER
The feet in the vineyard and close to our customers
To mark our commitment and the quality of our work, we signed the charter of the Independent Vigneron. We cultivate the land, we raise up our wine and we market it.
Charter of th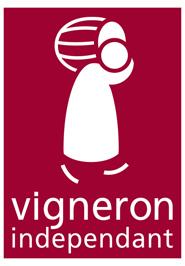 e independent winemaker :

• He respects his region
• He cultivates his vineyard
• He harvests grapes
• He vinifies and raises his own wine
• He bottles his wine in his private cellar
• He markets his wine
• He is happy to welcome you, to give you advice about wine tasting and introduce you his production.
The independent winemaker logo visible on our bottles shows our know-how and our respect to tradition. It is the guarantee for the consumer of a product that complies with our business charter.
As Independent Winemaker, we assume our values : responsability, engagement, professionalism.
We are responsible because we assume the quality of our work in harmony with the environment and with the objective to give satisfaction to our clients.
We are engaged because we chose to use innovative techniques without altering our heritage which we uphold.
We are professionals because we know our job like the back of our hands from the management of our vineyard to welcoming and selling our wines to our clients.
We personify a view of our work and an independant vine-growing.
More information : INDEPENDENT WINEMAKER